Just returned from the theater, and today's film was Girls Trip! I was so excited about this movie! Finally, a movie centered female-lead black comedy. And many others were just as excited as I am because it is the best R-rated live action comedy opening of the year, and I have seen so many celebrities sharing it on their feeds. In its opening, Girls Trip has earned $30.2 million, earning back its nearly $20 million budget. And like clockwork, there were a slew of industry trades that discussed the "power of diversity" once again. At this point in time, is a success like this really surprising? If Hollywood makes it, people will come! Today's audiences crave representation and good storytelling, so if a film out there combines the two- is it that hard to believe it would make a lot of money? According to the 2017 Hollywood Diversity Report from the Ralph J. Bunche Center at UCLA, people of color have a combined buying power of $3.5 TRILLION. Yeah, that's a lot. In another post, I asked a chicken or egg question, are there not many (frequent) Black film goers because of the lack of black films, or are there not as many black films because of the lack of Black film goers? The MPAA Theatrical Market study reports that 15% of frequent film goers are Black.
Doesn't seem like a big share, does it? But time after time, after time, we see films decimate the box office that have Black leads and great stories. Straight Outta Compton, Hidden Figures, Get Out, and even though these haven't come out yet, the anticipation is strong- A Wrinkle in Time, Proud Mary, and Black Panther. These films are a lesson to Hollywood that they need to take the Black audience more seriously. A possible reason for the Black share of audiences being so low is the fact that they don't see films that speak to them- so they don't waste their money. But when a film does catch the Black audience's eye, they are quick to rally up support and actually see these films. Remember when Hidden Figures came out, and celebrities were buying out entire theaters for people to see it?
It really warmed my heart to see celebrities supporting Girls Trip on social media. They were posting photos of their ticket stubs and encouraging their followers to see. We need more of this! Prompted by the great response, I went to see it today.
REVIEW
Girls Trip is another film in a line a "Women Behaving Badly" flicks (Preceded by films such as Bridesmaids, How to Be Single, Neighbors 2, Bad Moms, and the most recent, and similar- Rough Night), but it doesn't seem to be a retread of the others. The film joins four friends, Ryan (Regina Hall)- hailed as the second coming of Oprah, an author and wildly successful media personality who's attached to her husband (Mike Colter) and business, Sasha (Queen Latifah)- a former journalism powerhouse who's living is now made by a celebrity gossip site, Lisa (Jada Pinkett-Smith) an uptight single mother who has let motherhood displace her fun and wild side, and Dina (Tiffany Haddish)- a loyal and brutally honest party girl who's temper gets the best of her at times.
Overwhelmed with work, Ryan uses her opportunity as a keynote speaker at Essence Fest (Really great promotion- now I need to go!) to invite her three best friends- affectionately dubbed the Flossy Posse, for a special girls weekend in New Orleans. The women haven't seen each other in five years, having been busy with their own professional pursuits. They decide that the weekend is going to be a time to bond and let loose.
At the beginning of the trip, Sasha receives paparazzi photos of Ryan's husband- Stewart kissing another woman. The women confront Ryan, and learn that she knows of his infidelity, and has been attempting to make their marriage… and business partnership work. During the trip, Ryan is meeting for a very lucrative deal for a talk show and lifestyle collection, but is grappling with feelings of her slimy husband and his mistress- who has shamelessly followed Stewart to New Orleans. Stewart's mistress admits she is pregnant, and extorts Stewart for monthly support money in exchange for a non-disclosure agreement.
The events in the film come to a head when Ryan confronts Stewart about the pregnancy. After seeing that Ryan is letting Stewart control her, Lisa, Sasha, and Dina get into a heated argument that brings out a lot of unresolved feelings. Sasha's character is called into question when Ryan learns that the paparazzi photos were leaked. Throughout the film, it is shown that Sasha is struggling financially, and has toyed with selling the photos herself. She doesn't though, out of love for her friend.
At the conclusion of the film, during her keynote speech, Ryan publicly admits to her imperfections and of Stewart's affair. Even after the bold move, Ryan retains her major deal (Minus Stewart) and decides to bring in Sasha as her partner.
What I really love about this film, is that it celebrates Black female friendship, and in a humorous way. Black women are strong, but they are vulnerable too, and capable of behaving badly and making mistakes. Sometimes, we as Black women need to remember to let our guards down and truly be CARE FREE.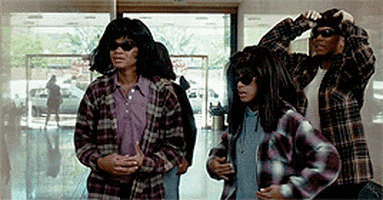 Lastly, A+++++++++ for the Set It Off reference.
Thanks for reading!
ADRIANA, THE CINEMA SOLOIST